Posted: June 25, 2023 By: beba
Diamonds, Sauce, Badder, Live Rosin Oh My!!
The next evolution of the marijuana world after edibles and vapes is dabbing. We have been real busy lately delivering the best weed products available and our badder and sauce line have been flying out the door. Our Pink Elephant Products and our Sugar Sauce products have been a big hit. We recently dropped the sugar sauce which is absolutely delicious and just a little goes a long way. You can use these Live rosins and badders with a dab rig or a electric erig like a puffco or a core 2.1 vaporizer. Whichever you choose, chronic buddha's weed delivery service will get you lifted usually in under an hour.
when you have your rig ready, Prepare your materials and set them aside in a container so you can easily access them once you begin your dab. Make sure to fill the glass chamber with water before use. Once you have everything ready, turn on your device and set it to the desired temperature. wait for it to heat up before placing your concentrate on the nail and inhaling the vapor. The main difference between these concentrates lies in their starting material and extraction process. Live rosin and badder are both solventless concentrates that are made using heat and pressure to extract the trichomes from the plant material.
Then you have Live rosin, which is a solventless concentrate that is made by pressing frozen cannabis flowers. The end product is a sticky, resinous substance that is high in terpenes and cannabinoids. Live resin, on the other hand, is made using solvents like butane or propane to extract the trichomes from the plant material. Diamond sauce is a type of cannabis concentrate that contains both THC crystals (or diamonds) and terpene-rich sauce. While badder is a type of wax concentrate that has a whipped consistency. It is made by whipping the concentrate after extraction to create a light and fluffy texture. Whenever you are ready to try some badder or sugar sauce juts hit us up at 718-747-9797 and we will get to you with our speedy weed delivery service.
Posted: June 8, 2023 By: beba
ALERT!! Our Drivers Are Ready For All Manhattan Weed Deliveries.
Manhattan Weed delivery just got a whole lot easier with Chronic Buddhas speedy weed delivery service. Our drivers are standing by to get you quick and efficient Manhattan weed delivery from downtown manhattan, midtown manhattan and uptown manhattan. Whatever marijuana products you choose, from any one of our weed strains to our thc edible products, prerolled joints or our incredible vape products, you can rest assured we have your Manhattan weed delivery covered. Simply text 718-747-9797 and we will get you started up and have one of our marijuana delivery experts at your door usually within the hour.
Brooklyn Weed deliveries, Quick & Efficient @ Chronic Buddha!!
Besides having top tier marijuana strains at our disposal for all our loyal customers & all new customers, we carry the best line of preroll joints, THC edibles and the best vape products in Brooklyn for easy Brooklyn weed delivery. Chronic Buddha has a efficient crew in Brooklyn that is ready all day to get your weed delivery to you usually within the hour. No need to shop around at a smoke shop with unqualified iffy products. Just hit us up at 718-747-9797 and we will get your order started and one of our drivers will be there before you know it with only the best marijuana products. If you live in Brooklyn or are just visiting lean back and relax as we got you covered with the best Brooklyn weed delivery in new york.
Loud Snackz Introduces All New Loud Snack Gummies!!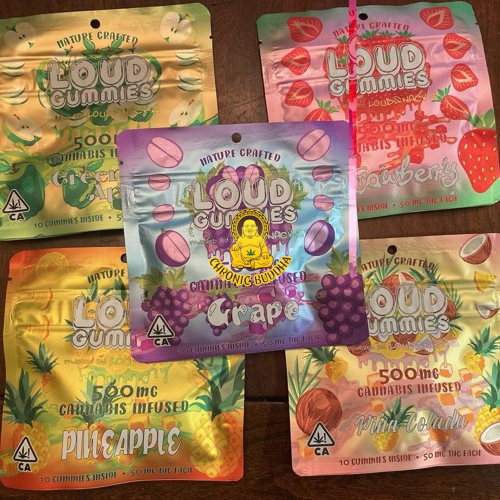 We here at Chronic Buddha love our Edibles and we love any edible from our friends at Loud Snackz. They have officially started to drop their entirely new line of Loud Snackz Gummies in a Brand New Packaging that shines. Each pack is loaded with 500mg of medical grade THC oil that hits and the flavors pop with every bite. Start off with a little piece and start your journey off right. We are the first of the first to carry the all new Loud Snackz Gummies and we have all the flavors listed so pick up a pack and get LOUD.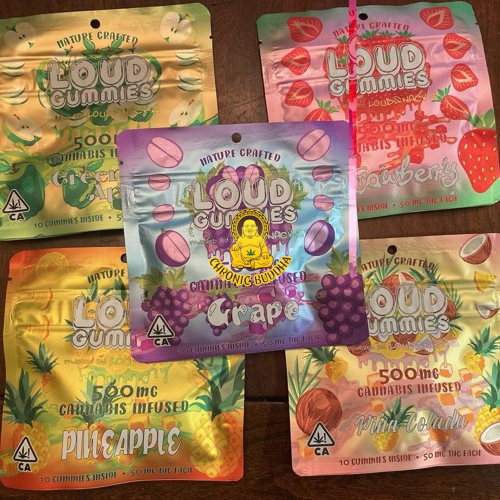 Posted: May 15, 2023 By: beba
Can You Compare Theirs To Chronic Buddha??
That Is the Million Dollar question. What are all these stores selling exactly. The answer is, NAMES and not much else. Much of what is sold in these smoke shops is bogus oil in brand name packaging so they can stay legal all while deceiving the customer. This applies to vapes, edibles and flower. You can purchase a punch bar or a 500mg bag of edibles and feel a light effect to no effect from the whole package. This is a problem that plagues the industry and that is consistency and carrying legit products.
Then there is the whole flower fiasco with many claiming to have actual strains, yet they are just pretty looking bud with names thrown at them for display as they might look like a certain strain but are a cheap mass-produced product with little to no effect. Many of these shops are selling greenhouse flower and selling it as indoors. Most don't even know the difference, and this applies to the legal shops that have opened, the flower is not the exotic we were all expecting.
The facts are simple. The city of New York has given out over 100 licenses for retail shops yet only a handful have opened and all of these places where hand selected by a select few and excluding the mass public who would love to get licensed but are held back but this equity run being pushed in ny. These hand full of places that have opened up are selling product I wouldn't smoke personally and most smokers who are aware of what's being sold wouldn't either.
Here at Chronic Buddha we have Old Timers who know what Marijuana is and fully understand all the different strains and varieties to ensure you are smoking the best quality flower possible. We always carry a true line of Sativa's, Indica's and Hybrids with the old school strains and the new strains people ask for.
The same applies to all of our vape products which are certified and verifiable with the newest gadgets and the best oil you can find. Then we have the latest edible craze with loud cookies and gummies and all the new koko gummies with more exciting new products to come. We pride ourselves in carrying premiere marijuana strains that have all the flavor and strength you desire and need. Whenever you are in the mood for a true taste of the marijuana world then make a order and get ready to visit the Chronic Buddha.
Posted: April 30, 2023 By: beba
New Products Are Dropping!!, Don't Miss Out!!
Chronic Buddha has been working hard behind the scenes and as you can see, we have been dropping new products and new flower flavors. First and foremost, we have gotten our mittens on the Brand new Loud Powered KoKo GUMMIES. We are the first ones to have these as we work closely with LOUD and receive these before anyone else. You can rest assured we have the original LOUD POWERED KoKo GUMMIES which come in a 10 piece pack at 50mg each for a total of 500mg. The flavors are spot on and are custom designed by LOUD. The power behind these is carefully designed to ensure the proper measurements and that each pack contains the highest-grade edible THC in every piece. KoKo nugs are a true edible experience which can be enjoyed piece by piece and are great for the novice and the experienced user.
Next on deck is the New PUFF LA 2 Gram USB-C disposable. This puppy will last you forever with its long-lasting battery and thick golden oil. They are dripping in flavor and come in 5 amazing flavors that hit with every pull. They contain top shelf premium THC oil derived in California. The pull on this disposable is open and easy to draw without any worry with clogging as they have a wider air flow hole. With 2 full grams in every cart you will be vaping on the PUFF LA for weeks on end. Treat yourself to an exceptional experience for only $70 for 2 full grams for a true high end boutique experience.
Cookies brand is as popular as ever and we stocked up on their newest 2 gram blunts that are long lasting and smoke amazingly well. They come with a glass tip and sealed for freshness directly form the cookies factory. At a price that that that will have you baffled sine these are of high quality and freshness. You get to choose between 3 flavors and are available now. Save big by getting 3 for only $100. These are perfect for a group of friends who want to smoke a blunt together that is hand rolled with a glass tip that will burn for a long time.
Dabbers can rejoice and get their dabbing rig prepared for our all new Chronic Badder. We have 4 new flavors and these badders where all hand pressed and made especially for chronic buddha by Pink Elephant. We have been wanting to carry this brand for a while and we finally got connected with the owner and now all our customers can get to taste these amazing badders. Choose between these flavors BLUE DREAM, WEDDING CAKE, ORANGE ACCAI & HEADBAND for an experience like no other. The taste is clean and each strain just pops with pure terpene flavor that can only be brought out through Live Badder. You can add this to your flower for an awesome heady experience or use it in your dabbing rig of choice for an outer body and mid experience.
We saved the best for last with our NEW FRENCHIE THCA INFUSED 5 piece minis. You can choose between 4 awesome strains which hit hard and taste amazing. Each mini is perfect for a quick hit that lasts for its tiny size. They were designed and packed to last and are full of THCA which is infused and peaks your high with every hit. The smoke is smooth and flavorful with high quality flower in every mini. Don't hesitate and pick up a jar and we are sure you will be impressed with just how well they work.
Posted: March 26, 2023 By: beba
What You Rolling With??
Rolling papers are an essential element for smokers who prefer to roll their own cigarettes or joints. However, with so many brands from Raw, Elements to OBG and other types of rolling papers available on the market, it can be challenging to know which one to choose. In this article, we will take a closer look at the differences between rice paper, flax paper, hemp paper, blunt wraps, bleached, and unbleached rolling papers. Chronic Buddha will also explore the newest vaporizers and their unique features.
Rice Paper
Rice paper is a popular choice among smokers as it is thin, slow-burning, and virtually tasteless. Elements are a Awesome brand of papers made from a mixture of rice straw and flax fibers and are typically unbleached. They are easy to roll and have a smooth burn, making them a popular choice for those who appreciate a clean, pure smoking experience.
Flax Paper
Flax paper is similar to rice paper in that it is thin and slow-burning. However, it is made from flax fibers and is typically bleached, giving it a white color. Truth be told, Flax paper is a bit more robust than rice paper, making it a better choice for those who prefer a slightly thicker paper.
Hemp Paper
A very popular trend starting happening a few years ago with hemp paper. Natural Hemp paper is made from the fibers of the hemp plant and is an excellent alternative to traditional wood pulp paper. It is thin, slow-burning, and environmentally friendly, making it a popular choice among eco-conscious smokers. Hemp papers are available in both bleached and unbleached versions.
Blunt Wraps
Blunt wraps are a type of rolling paper that is made from tobacco leaves. They are typically flavored and are available in a range of flavors, such as Cotton Candy, Blueberry, and vanilla. Compared to paper, Blunt wraps are thicker than traditional rolling papers and are an excellent choice for those who prefer a more substantial smoking experience.
Bleached Rolling Papers
Bleached rolling papers are typically made from wood pulp and are treated with chlorine to give them a white color. While these papers are popular, some smokers prefer to avoid them as the chlorine used in the bleaching process can potentially be harmful. This is why raw became so popular as they were unbleached.
Unbleached Rolling Papers
Unbleached rolling papers such as RAW are made from natural materials and are not treated with any chemicals or bleaching agents. They have a natural brown color and are an excellent choice for those who prefer an organic smoking experience.
Vaporizers
Vaporizers are a relatively new addition to the smoking world and are becoming increasingly popular among smokers. Vaporizers work by heating the smoking material to a temperature that is hot enough to release the active compounds but not hot enough to cause combustion. This process produces a vapor that can be inhaled, rather than smoke.
There are several types of vaporizers available from puffco and cloud, including desktop vaporizers, portable vaporizers, and pen-style vaporizers. Some vaporizers are designed for use with dry herbs, while others are designed for use with concentrates such as wax or oil. Choosing the right rolling papers or vaporizer comes down to personal preference. Each type of paper or vaporizer has its unique features, and it is up to the smoker to decide which one best suits their needs. Whether you prefer a thin, slow-burning rice paper or a more substantial blunt wrap, there is a rolling paper out there that will be perfect for you. Similarly, if you are looking for a cleaner, healthier smoking experience, a vaporizer may be the perfect choice. With so many options available, smokers are sure to find a rolling paper or vaporizer that is perfect for them.
Posted: March 20, 2023 By: beba
Spring Has Arrived & So Have New Weed Strains
Its that time of the year again, spring is around the corner, we say goodbye to a mild winter at best. With such good weather comes good news and that means a better harvest for all. The milder the winter the easier it is for the farm experts to deliver weed with better results. Thankfully all the farms chronic buddha works with have had a wonderful winter which resulted in some top-notch production, and some select strains that are aromatic and potent. We have already added some awesome strains this week and have so many more dropping every week. Make sure to keep Coming back and checking the main weed page to see what we have added that week.
On top of some really exciting marijuana weed strains that are arriving, we also have tons of new products we will be releasing to all our wonderful customers to try and enjoy, from brand new pre rolled joints that are infused with high quality THC oil and hash. We also have some potent edibles arriving along with more incredible vapes of all kinds. This week we dropped some awesome strains that are getting some positive feedback so make sure to try them all and let us know which marijuana weed strain you loved the most.
Posted: March 13, 2023 By: beba
Ordering Made Simple By Chronic Buddha!!
Sometimes a simple thing isn't so simple and what might seem easy to one person can easily be overlooked by someone else. Recently we have had some guests ask us how to order on the website or some have been confused as how to order from their cellphone. So, to help everyone out and to keep it as simple as possible, I hope the following instructions clear the air.
If you are using a laptop or a Computer Browser, if you look at the TOP RIGHT CORNER of the page, you will see our Cell Number (718-747-9797). All NEW customers Should have a selfie of themselves holding their ID for Age Verification.
Simply Text 718-747-9797, Let us know you are interested in ordering and send us your selfie holding your ID for age verification and let us know how you heard of us (Freind, Google etc.).
Text us your order for the products you would like to purchase..
We will text you your total cost and a ETA on how long before our driver reaches you which is usually within an hour.
If you are on your cellphone, simply click the phone icon in the top right corner of the page and text us the same as above to start your first order.
We have drivers that Expedite NYC Weed Deliveries to Queens New York, Covering all parts of Astoria NY, Flushing NY, Whitestone NY, Long island NY , L.I.C NY and beyond. Leave the hard work to us, Chronic Buddha Has you covered with speedy deliveries, prompt safe and secure weed delivery service and quality authentic marijuana products you can trust.
Posted: February 25, 2023 By: beba
Exceptional Weed Delivery, It Exists with Chronic Buddha.
‍
Experience quick delivery with exceptional products.
Are you looking for a reliable, fast and convenient way to get your hands on top-shelf exotic weed strains from California, Oregon and Washington? Do you want to get your weed delivered directly to your door in Queens, Manhattan and Brooklyn? If the answer to any of the questions above is yes, then chronicbuddha.com is the answer to your prayers.
Our Staff understand that a lot of people don't have the time or energy to go out and buy weed. That's why we offer our customers the convenience of weed delivery right to their doorsteps, no matter where they are in New York City. Everyone here takes pride in the quality of our products and our quick delivery services, so you can be sure that you'll get your weed in a timely manner.
Speedy And Trustworthy Delivery
Our delivery services are quick and reliable. We understand that customers have different preferences and budgets, so we have something for everyone. The Staff also make sure that all of our products are verifiable and authentic. We make sure that our products are up to date and that our customers are always satisfied with their purchase and proud to say that we have years of experience in providing quality services.
Easy Enrollement
We make sure that our enrollment process is easy and straightforward. All you have to do is text the number you see on top and we will get you started within minutes. We understand that some of our customers are new to the process, so we make sure that our enrollment process is easy and hassle-free. We also make sure that all of our customers are given the best possible customer service.
High Quality Vapes, Edibles and Exotic Weed Strains
Offering our customers a wide selection of high-quality vapes, edibles and exotic weed strains from California, Oregon and Washington. We understand that customers have different preferences and budgets, so we have something for everyone. We also make sure that all of our products are verifiable and authentic.
Making sure that our products are up to date and that our customers are always satisfied with their purchase. We also understand that the quality of our products is important, so we make sure that all of our products are of the highest quality. We know that our customers need their weed and that's why we make sure that it's delivered to them in a timely manner.
At chronicbuddha.com, we take pride in the quality of our products and our quick delivery services. We make sure that our customers get their weed in a timely manner and that it meets their expectations. So if you're looking for a reliable, fast and convenient way to get your hands on top-shelf exotic weed strains. then check out our lines from California, Oregon and Washington, look no further than chronicbuddha.com. We guarantee that you won't regret it.